U.S. man evades jail time in 'mysterious' case of spying for Israel
Haaretz Israel May 30, 2009
An 85-year-old former civilian employee of the U.S. Army was fined but avoided prison time on Friday after earlier pleading guilty to giving classified documents to Israel in the 1980s, in a case the sentencing judge said was "shrouded in mystery." Court documents showed that Ben-Ami Kadish, who was fined $50,000 but spared prison time, reported to the same handler as Jonathan Pollard, an American who spied for Israel in the 1980s and triggered a scandal that rocked U.S.-Israeli relations. "Why it took the government 23 years to charge Mr. Kadish is shrouded in mystery," U.S. District Judge William Pauley said during the sentencing hearing in Manhattan federal court. "It is clear the [U.S.] government could have charged Mr. Kadish with far more serious crimes."


No Waterboarding Reported at Phoenix Outdoor Jail
Washington Post May 30, 2009
Torturing Democracy, PBS Documentary, a must watchhttp://www.torturingdemocracy.org/---Maricopa County Sheriff Joseph M. Arpaio and his office, which have drawn widespread attention for an unorthodox approach to crime and punishment, are the focus of three federal investigations into whether they violated federal rules or civil rights laws in pursuing illegal immigrants.---Yesterday, Arpaio's attorneys wrote to Obama administration officials, questioning whether investigators followed ethics rules in launching the probes this year.---But there are things this Sheriff will not do, see them here---Torturing Democracy, PBS Documentary, a must watchhttp://www.torturingdemocracy.org/


Americans Continue to Pay the Cost of the "Cold War"
Washionton Post May 30, 2009
Title: Plant to Destroy Chemical Weapons Opens in RussiaMOSCOW, May 29 -- Russia and the United States formally opened on Friday a plant in Siberia to destroy a huge stockpile of artillery shells filled with deadly nerve agents, more than a decade after alarmed U.S. officials first pledged to help secure and dispose of the weapons. The 250-acre facility, built with $1 billion in U.S. aid, is said to be the largest in the world dedicated to destroying chemical munitions. Its debut represents a milestone in Russia's long, rocky partnership with the United States to safeguard and eliminate the arsenal of chemical, biological and nuclear arms the former Soviet Union produced.---Located in the town of Shchuchye, about 1,000 miles southeast of Moscow near the border with Kazakhstan, the plant is supposed to neutralize about 2 million shells and warheads stored nearby that are loaded with VX, sarin and soman.


Britain Faces 'Miserable' Years of Austerity, HSBC's Economist Chief
Bloomberg. com May 29, 2009
Former Bank of England policy maker Willem Buiter said afterwards that Britain now faces a "huge national hangover." Britain is "a country that has over-consumed," Buiter said in an interview after S&P released its report. "The economy that the next government inherits will be a real poison pill." ---Prime Minister Gordon Brown's efforts to rescue Britain's banking system from the financial crisis has left the country facing "miserable" years of austerity, said Stephen King, chief economist at HSBC Holdings Plc. The Treasury predicts a budget deficit in the current fiscal year of 12.4 percent of gross domestic product, which would be the worst since World War II. Britain had an 8.5 billion-pound ($14 billion) budget shortfall in April, the most for the month since records began in 1993. "The data are straightforward," King said."When we get into 2010, the U.K. will have a budget deficit up to 12 or 13 percent of GDP, which is an incredibly large number. We've not seen numbers anything like as big as that in the past."


Starbucks Pushing Landlords for 25% Reduction in Leases (why can't we?)
Bloomberg News May 29, 2009
Starbucks Corp., the world's largest coffee-shop operator, is pushing some U.S. landlords for as much as a 25 percent reduction in lease rates, taking advantage of a declining real estate market to save on rent.--- Commercial real estate values dropped 22.8 percent through March from their October 2007 peak, according to a May 19 report from Moody's Investors Service. Property prices have fallen 21 percent from a year ago, and Moody's expects further declines. Landlords are hoping lower lease rates will allow tenants to remain open, Riehle said. Vacancies at malls and shopping centers climbed to 9.5 percent in the first quarter, the most in a decade, as stores and restaurants closed, according to Reis Inc., a New York-based real estate research firm.


Draft bill by Israel to ban Nakba is attacked
Financial Times London May 28, 2009
The draft bill would make it a criminal offence – punishable by up to three years in prison – for Israeli citizens to mark the "Nakba". The term means catastrophe, and is used by Palestinians to describe the year of Israel's foundation, when between 700,000 and 800,000 of them fled or were expelled by advancing Israeli troops. It is commemorated every year on May 15, and involves demonstrations and marches to destroyed Palestinian villages inside Israel.=== According to the draft proposal, anyone applying for an Israeli passport or ID card would have to commit to be "faithful" to Israel as a Jewish and Zionist state – a pledge that many Israeli Palestinians say they will refuse to make. Sammi Michael, the president of the Association for Civil Rights in Israel, condemned the move in a statement on Monday as "the surest way to brutal oppression of everyone's freedom of speech". He added: "Marking the Nakba does not threaten the safety of the state of Israel, but is rather a legitimate and fundamental human right of any person, group or people, expressing grief at the face of a disaster they experienced."--- The draft bill would make it a criminal offence – punishable by up to three years in prison – for Israeli citizens to mark the "Nakba". The term means catastrophe, and is used by Palestinians to describe the year of Israel's foundation, when between 700,000 and 800,000 of them fled or were expelled by advancing Israeli troops. It is commemorated every year on May 15, and involves demonstrations and marches to destroyed Palestinian villages inside Israel.


Israel defies US demand on settlements
Financial Times London May 28, 2009
One veteran US negotiator argues the credibility of the new administration is at stake if the US makes demands Israel refuses to meet. This week, Hillary Clinton, US secretary of state, said Mr Obama sought "a stop to settlements – not some settlements, not outposts [smaller settlements not authorised by the Israeli government], not natural growth exceptions". The Israeli government, which has been seeking to negotiate exceptions to any settlement freeze, insists it will not not accept a blanket ban on building new homes inside existing Jewish settlements. A spokesman for Benjamin Netanyahu, prime minister, stressed on Thursday that "normal life" should be allowed to continue in the West Bank settlements – making clear that Israel has no intention of accepting Washington's call for an end to the "natural growth" of settlements.


Windows Into Gaza
Tom Compton May 22, 2009
Salena went to Gaza in March in conjunction with her work with Grassroots International, a human rights and international development organization that supports community-led sustainable development projects. Salena's moving story about her trip is published at: http://www.commondreams.org/view/2009/05/22-7 Pictures of her trip can be viewed at: flickr.com/photos/grassrootsinternational/sets/72157616185340221/


Netanyahu: Settlements to Expand
Palestine Chronicle May 25, 2009
Israel's prime minister, Benjamin Netanyahu, has said that Jewish settlements in the occupied West Bank will continue to be expanded in spite of a request from President Obama last week to halt settlement activity. However, Netanyahu claims that "We will take care of them" (22 of the more than 100 outposts) in the West Bank, of which, some are considered to be illegal under Israeli law.Editors Note: There are over 500,000 Jews living in settlement blocs and the much smaller outposts. All settlements are considered illegal under international law and U.S. and European negotiators see them as a major obstacle to achieving a peace deal with the Palestinians.


Kohn Says Fed Asset Purchases May Boost Economy by $1 Trillion
Bloomberg news May 24, 2009
EditorCE: Kohn's statement again confirms what an engineer friend calculated: that the Federal Reserve's monopoly and the US Treasury are together, electronically printing money faster than the speed of light, more than $186,000 new dollars per second! Bloomberg: The Fed is in the process of buying $300 billion of long- term Treasuries through September, as authorized at the March meeting of the Federal Open Market Committee. Policy makers also at the time more than doubled planned purchases of mortgage- backed securities to $1.25 trillion this year and boosted federal agency debt purchases to $200 billion from $100 billion. The comments make it more likely that Fed officials will "extend or expand" programs to purchase the assets, Michael Feroli, a JPMorgan Chase & Co. economist and former Fed researcher, said in a note yesterday. Purchases may increase nominal gross domestic product as much as $1 trillion "over the next several years," Kohn said in a footnote to his remarks.


TARP Warrants Show Banks May Reap 'Ruthless Bargain'
Bloomberg May 24, 2009
May 22 (Bloomberg) -- Banks negotiating to reclaim stock warrants they granted in return for Troubled Asset Relief Program money may shortchange taxpayers by almost $10 billion if Treasury Secretary Timothy Geithner's first sale sets the pace, data compiled by Bloomberg show. If Geithner makes the same deal for all companies in the rescue program, lenders may walk away with 80 percent of the profits taxpayers might have claimed.


Here`s how Israel would destroy Iran`s nuclear program
Haaretz,Unity Coalition for Israel May 19, 2009
Never before has such an open, detailed and thorough study of Israel`s offensive options been published. The authors of the 114-page study meticulously gathered all available data on Israel`s military capabilities and its nuclear program, and on Iran`s nuclear developments and aerial defenses, as well as both countries` missile inventory. ---The study lays bare Israel`s missile program and points to three missile versions it has developed: Jericho I, II and III. The Jericho I has a 500-kilometer range, a 450-kilogram warhead, and can carry a 20-kiloton nuclear weapon. Jericho II has a 1,500-kilometer range, and entered service in 1990. It can carry a 1-megaton nuclear warhead. Jericho III is an intercontinental ballistic missile with a range of 4,800-6,500 kilometers, and can carry a multi-megaton nuclear warhead. The study says the latter was expected to enter service in 2008.


Americans Divided by Hate Crimes Bill
Khaleej Times Online May 18, 2009
Susan Fani of the Catholic League for Religious and Civil Rights warns: "The problem in general with hate crimes legislation is that it invites the government to probe way beyond motive. And in instances like this, it trespasses on free speech and religious liberty." Anisa Abd el Fattah, President of National Association of Muslim American Women (NAMAW) points out: "Before our Congress passes such a law there are many questions to be answered, the most important of which is 'who' will decide that a given act is a 'hate 
crime'?" The Jewish Anti-Defamation League (ADL) originally wrote this bill. Arab, Latino and African-American organisations support it because they hope that prosecuting "hate" will decrease racist attacks on their communities. Serious fears exist, however, about the government surveillance centre, given the highly politicised nature of hate crimes labeling. The ADL, along with the Southern Poverty Law Center (SPLC), is already heavily involved in Homeland Security's locally based "fusion centres," which collect personal data for intelligence databases that synchronise national intelligence collection with 
local police. ADL and SPLC have a record of illegally spying on American citizens and providing false information to law enforcement officials.


Hope convoy arrives in Alexandria enroute to Gaza
The Palestianian Informaton Center May 15, 2009
BRUSSELS, (PIC)-- European MPs participating in the "Hope" convoy arrived in Cairo before the arrival, on Friday, of the convoy that is traveling by sea from Genoa, Italy to Alexandria en route to the besieged Gaza Strip.Rami Abdo, the coordinator of the "Hope" convoy, said on Thursday in a press statement that 12 lawmakers from Italy, Greece, Switzerland, Ireland and Britain would take part in distributing the medical assistance in Gaza especially for those with special needs.He pointed out that the European MPs would meet with a number of Egyptian officials.


A Christ Follower's Reaction to Torture
Laurence M. Vance May 15, 2009
Waterboard an A-rab for Jesus:The recent release of the Bush torture memos and the revelation that the CIA waterboarded Abu Zubaydah 83 times and Khalid Sheik Mohammed 183 times before Bush claimed that we don't torture has elicited a predictable response from conservative Christians who think the Republican Party is the party of God: silence. ---Can a Christian smash someone against a wall in the name of the Lord Jesus? Can a Christian heartily lock someone in a dark box for hours at a time? Can a Christian deprive someone of sleep to the glory of God? Can a Christian give thanks to God while he hangs someone from the ceiling? Sure he can, but not without violating the whole tenor of the New Testament. Christians are told to put off anger, wrath, and malice (Colossians 3:8), to not render evil for evil (1 Thessalonians 5:15), to not give offense (1 Corinthians 10:30), to abstain from all appearance of evil (1 Thessalonians 5:22), to not be a brawler (Titus 3:2), and to abhor that which is evil (Romans 12:9). I think this rules out waterboarding. ---EDITOR CE: I add one verse of my own; Jesus told his followers: "For as much as you have done it to the least of these my brethren, you have done it unto me." Matthew 24:40. Would you waterboard Jesus? Please read the whole chapter, this quote is in context!


Israel knows that peace just doesn't pay
Haaretz, Amira Hass May 15, 2009
The article that landed the author, a Jewish writer for Haaretz, in an Israeli Jail: "As the past 30 years have shown, settlements flourish as the welfare state contracts. They offer ordinary people what their salaries would not allow them in sovereign Israel, within the borders of June 4, 1967: cheap land, large homes, benefits, subsidies, wide-open spaces, a view, a superior road network and quality education. Even for those Israeli Jews who have not moved there, the settlements illuminate their horizon as an option for a social and economic upgrade. That option is more real than the vague promises of peacetime improvements, an unknown situation. Peace will also reduce, if not erase entirely, the security pretext for discriminating against Palestinian Israelis - in land distribution, development resources, education, health employment and civil rights (such as marriage and citizenship). People who have gotten used to privilege under a system based on ethnic discrimination see its abrogation as a threat to their welfare."


Barber Commends Leading "Gay" Activist for Admitting "Hate Crimes" Bill a Scam
Liberty Counsel and Liberty Alliance Action May 15, 2009
THE DAILY DISH: "Exactly. The real reason for hate crime laws is not the defense of human beings from crime. There are already laws against that - and Matthew Shepard's murderers were successfully prosecuted to the fullest extent of the law in a state with no hate crimes law at the time. The real reason for the invention of hate crimes was a hard-left critique of conventional liberal justice and the emergence of special interest groups which need boutique legislation to raise funds for their large staffs and luxurious buildings. Just imagine how many direct mail pieces have gone out explaining that without more money for HRC, more gay human beings will be crucified on fences. It's very, very powerful as a money-making tool - which may explain why the largely symbolic federal bill still hasn't passed..."EDITOR CE: Matt Barber is Director of Cultural Affairs with both Liberty Alliance Action and Liberty Counsel, and Associate Dean with Liberty School of Law. He is taking a big step in publishing this expose' having opposed the bill vigorously in the past. Maybe the Liberty Law Dean feels he has been played for a sucker by those like Gary Bauer, Dr.James Dobson and others who profit from "defeating" the sham bill every year. (http://www.libertyalliance.org/index.cfm?PID=18527&nid=10) ---Your Editor at WHTT has suspected there was something fishy about the annual "fight to the death" to defeat hate crimes legislation, and we have never once joined our friends in dropping all our project to oppose it. Each year the supposed monster bill dies a quite death in Congress for lack of support. Why? Not because America has spoken, but because Congress and a handful of radical gay groups are both in the know...that the proposed law is too outrageous to pass our most outrageous Congress. It dies on the shelf and the Gay lobbies get ready for their fundraiser next session, and so do the Christians who make a living opposing it year after year! ---It's time we who say we follow Christ get serous about the issues that really count. See our website if you do not know what these are.-End CEC


Prudential Among Insurers Cleared for U.S. Bailout
Bloomberg News May 14, 2009
Life insurers have clamored for six months to get into a program that the nation's biggest banks are trying to flee to avoid government restrictions. Insurers need the money to quell doubts about whether they can pay claims and retirement stipends after falling stock and bond markets depleted capital. - Prudential Financial Inc. and Hartford Financial Services Group Inc. are among six insurers granted access to U.S. aid as the government moves to shore up an industry battered by investment losses. Hartford won preliminary approval for $3.4 billion in capital from the Treasury's Troubled Asset Relief Program, the Connecticut-based insurer said yesterday in a statement. Prudential, Allstate Corp., Principal Financial Group Inc. and Ameriprise Financial Inc. also are eligible for funds, said Andrew Williams, a spokesman for the Treasury. Lincoln National Corp. said it may receive $2.5 billion.


Haaretz reporter Amira Hass arrested upon leaving Gaza
Haaretz Service May 13, 2009
Editor CE: Jewish reporter to pay the high cost of telling the truth about Israel: Harretz: Hass is the first Israeli journalist to enter the Gaza Strip in more than two years, since the Israel Defense Forces issued an entry ban following the abduction of IDF soldier Gilad Shalit in a 2006 cross-border raid by Palestinian militants. Last December, Hass was arrested by soldiers at the Erez Checkpoint as she tried to cross into Israel after having entered the Gaza Strip aboard a ship run by peace activists from Europe. ---Here are story written by Miss Hass: http://www.haaretz.com/hasen/pages/tags/index.jhtml?tag=Amira+Hass


Pope in Bethlehem endorses a Palestinian state
Associated Press May 13, 2009
BETHLEHEM, West Bank – Standing in the cradle of Christianity, Pope Benedict XVI told Palestinians Wednesday he understood their suffering and offered his strongest and most symbolic public backing yet for an independent Palestinian state. On a visit to a nearby refugee camp, he expressed regret over Israel's construction of the separation barrier. A section of the barrier fortified by an Israeli military watchtower provided a stark backdrop as he spoke. In Bethlehem, he offered a prayer for Israel to lift its blockade of Gaza.--- At the Aida refugee camp, the pope said it was understandable that Palestinians feel frustrated. "Their legitimate aspirations for permanent homes, for an independent Palestinian state, remain unfilled," he said.


In reversal, Obama seeks to block abuse photos
Editor May 13, 2009
WASHINGTON – President Barack Obama will try to block the court-ordered release of hundreds of photos showing U.S. troops allegedly abusing prisoners, reversing his position after military commanders warned the graphic images could stoke anti-American sentiment and endanger soldiers. The pictures show are said to show mistreatment of detainees at locations in Iraq and Afghanistan.


Afghan president demands an end to air raids on Taliban amid claims of 130 civilian deaths
Daily Mail May 12, 2009
His spokesman said the Afghan leader was 'very serious' about his demand. Afghans are furious about the bombing of two villages in Western Farah province during a drawn-out battle last week, when homes full of civilians were hit.However, his plea was rejected by White House National Security Adviser James Jones, who said the United States could not be expected to fight 'with one hand tied behind our back'.--- Karzai's warning comes after the U.S. was accused of using white phosphorus bombs during the raids. Doctors say they found horrific burns on victims of the slaughter a week ago. They believe they could have been caused by the chemical, which bursts into fierce fire on contact with the air and can stick to flesh and burn deep into it. While phosphorus can be legitimately used in battle to light up the night sky or create smokescreens, but it is illegal to use it as a weapon. Human rights groups say its use in populated areas can indiscriminately burn civilians and constitutes a war crime. Yesterday the U.S. military denied using phosphorus, saying if it had been used, the Taliban were to blame. But that idea was rubbished by experts and denied by the Taliban themselves.


Palestinians Build Stage for Pope Next to Separation Barrier
Associated Press May 11, 2009
Local officials said Israel has pressured them to stop work, and that Israeli soldiers came to the site last week and forced the workers to leave. The workers have since returned and are working long days to finish the project.--- "We are determined to receive the pope in this place because it encapsulates Palestinian suffering, as we have the refugee camp, the wall and a watchtower of the Israeli military," said the Palestinian governor of the Bethlehem district, Salah Taameri.--- Galin declined to comment on whether Israel is worried about political messages implied by the stage's location, but said Israel is working closely with the Palestinian Authority and local churches to coordinate the visit.--- Palestinian and Israeli officials are discussing alternate locations in the camp where the pope could speak, but local officials say there is nowhere in the camp where the wall isn't visible.--- "The wall is surrounding us like a ring on a finger," said Palestinian lawmaker Issa Karakeh.---


AIPAC ED fears the growing sanction movement could change US policy towards Israel
Mondoweiss May 11, 2009
Howard Kohr: "You know, we've all heard many times Israel accused of being aWestern outpost in the Middle East. To those who make that accusationI say you are right. Israel is the only democratic country in theregion that looks West, that looks to the values and the vision weshare of what our society, our country should aim at and aspire to. Ifthat foundation of shared values is shaken, the rationale for thepolicies we pursue today will be stripped away. The reasons the UnitedStates would continue to invest nearly $3 billion in Israel'ssecurity; the willingness to stand with Israel, even alone if need be;the readiness to defend Israel's very existence,all are undermined andundone if Israel is seen to be unjust and unworthy. . ."Yes, we must lobby for the particulars --Iran sanctions, peaceprocess principles, foreign aid --but our mission now is to do morethan work our talking points. We must add context and foundationalarguments that help America's leaders understand the rightness of ourcause."


Communists Can't Outspend Capitalists as China Jobless Increase
Blomberg, William Mellor May 11, 2009
Lending Soars. In March, new lending in China soared to 1.89 trillion yuan, a sixfold increase from a year earlier. In the first three months of 2009, Chinese banks loaned businesses and consumers about 5 trillion yuan -- almost meeting the government's credit target for the entire year. "Even if the Chinese economy grows at only 5 percent, which is most likely, that's still growth," Straszheim says. "It is easily going to be the best-performing economy this year and for many years to come."


Pakistan Claims to Kill 700 Taliban in Swat Valley Operation
Khalid Qayum and Ed Johnson May 11, 2009
Pakistani troops backed by helicopter gun ships have killed about 700 Taliban militants in the past two weeks as the military tries to seize control of the northwestern region, according to Interior Minister Rehman Malik. The military operation "will continue till the last militant is flushed out of the area," Malik told reporters in the capital, Islamabad, today. "Militants are on the run" in the operation that has killed 20 soldiers.


Big Stories Fall to Flu Fever
Pew Research Center, Mark Jurkowitz May 08, 2009
EditorCE: One can not help but wonder if the mainline media has nothing else to talk about. Have you noticed, as I have, how little news space is devoted to telling us how many people have safely recovered from this monster virus in short order, and how rare deaths have been when compared to ordinary flu? ---Pew Research Center: "Last week, a key Republican senator switched parties, altering the balance of power on Capitol Hill. Barack Obama celebrated his 100th day in office with a prime-time press conference. The chairman of Bank of America was ousted and the Chrysler Corporation declared bankruptcy....Yet all those stories were overwhelmed by the frantic coverage of a new flu virus that in a matter of days had made its way around the globe and was threatening to become the first influenza pandemic in four decades. From April 27-May 3, the swine flu, or H1N1 as it officially became known, accounted for nearly one-third of the newshole (31%) studied, according to the Pew Research Center's Project for Excellence in Journalism."


National Day of Prayer gets a political makeover
Pew Forum On Religion And Public Life May 07, 2009
EDITOR CE: What the National Day of Prayer (NDP) is all about and who is behind it, and is it a movement to following Christ? Have you ever stopped to reflect on just what brand of "Christianity" the NDP promotes... for instance does it support the Idea that our leaders are appointed by God to rule over us...all leaders...their favorite leaders...those who make wars...those who torture prisoners? Is Christian Zionism and other forms of Israelism a part of their mantra? There is reason to inquire. PEW FOUNDATION: "I am sad to say this morning that this is the first time since the year 2000 that there has not been a prayer service in the White House," said Shirley Dobson, leader of the National Day of Prayer Task Force and wife of Focus on the Family founder James Dobson, at the Cannon House Office Building. "I feel a void that the executive branch is not represented here." "In many ways, it validates an assumption that a lot of evangelicals have felt over the last few months, which is they are not going to have as easy an entre to the halls of power in Washington as they have over the last eight years," said Michael Lindsay, assistant professor of sociology of Rice University.Who founded the National Day of Prayer: According to Wikipedia it is one Douglass Coe. Time reported: "Douglas Coe, 76, the Fellowship Foundation The gala annual National Prayer Breakfast is not hosted by Congress, but by some 30 members who belong Douglas Coe's Fellowship Foundation. Several members of Congress live in rooms rented in the Fellowship's Capitol Hill rowhouse. Hundreds of its prayer-and-conversation offshoots have convened at the White House, Pentagon, and other agencies.


Farewell to Gaza's courageous priest
Stuart Littlewood, Aljazeera May 06, 2009
I hear that Fr Manuel Musallam, the Catholic priest in Gaza, has finally retired at 71. His is a hard act to follow.z I was interested to know how well Fr Manuel got along with the Hamas government and how the two religions interacted and stood together in the face of a common enemy. Prime minister Haniyeh happens to be an imam and the two appeared to be on good terms, both being men of faith and courage. Both are first and foremost Palestinians – passionately so - and this is no doubt just as important to the relationship as professional courtesy. "The Pope should see Gaza and weep like he has never wept before" The only official tribute I have seen so far to Fr Manuel says that he "has done great work over the many years he has been in Gaza where he has given a lot to support the Christian community and many others."


Hamas support goes wider
Aljazeera May 06, 2009
Hamas leader Ismail Haniyeh could beat Mahmoud Abbas in a Presidential election and Hamas could win a general election, outright, or as a leading coalition partner. Support for Haniyeh and Hamas has risen in three months from 38 percent to 47 percent, and that for Abbas and Fatah fell from 48 to 45 percent.---Even though most Palestinians realize that a Hamas victory for the Presidency or the general elections, or both, might mean a tighter Israeli blockade against Gaza, there is still quite a chance that Hamas will win any forthcoming elections, even though many Palestinians believe a Fatah victory might lead to ending the blockade.---Now isn't that interesting, and why on earth would that be ? ---Partly, because its administration of charitable services to victims of occupation has been well organized, and it has acquired a reputation for honesty and efficiency. Also although built upon Islamic identity, its religious support has been broad from conservative to liberal, and for wider reasons it also attracted secular support.


Church-going Americans more likely to support torture
Middle East Online May 06, 2009
Editor CE: The obvious reason WEP is supporting torture has nothing to do with the Christian Bible, but has everything to do with Politics. A majority are Israelists (Christian Zionists) who take for granted that those being tortured are Muslim Arabs (Israel's enemies) making torture easier to understand and accept. PEW FORUM:"The analysis released Wednesday by the Pew Forum on Religion & Public Life. ---The survey asked: "Do you think the use of torture against suspected terrorists in order to gain important information can often be justified, sometimes be justified, rarely be justified, or never be justified?" ----"White evangelical Protestants were the religious group most likely to say torture is often or sometimes justified -- more than six in 10 supported it. People unaffiliated with any religious organization were least likely to back it. Only four in 10 of them did," CNN reported."


George Galloway in Phoenix, May18th
CARAMA May 06, 2009
British parlimiant member Galloway will be arriving to Phoenix on Monday, May 18th to speak at Al-Nakba commemoration second annual conference organized by CARAMA-Coalition of Arabs and Muslims in America Arizona Chapter============ 6:30pm - 9:30pm. Fiesa Fountain Banquet Hall. 1316 S. Longmore, Mesa, AZ======= Tickets are $25 per person $20 per student.. For Tickets call: 602-228-8035=== George Galloway is a British politician, author, and broadcaster, who has been a Member of Parliament (MP) since 1987 and is known for his outspoken anti-Zionist views. Mr. Galloway has been reelected in the British Parliament for 23 years. On Feb. 14, Valentines day, He led a convoy of 135 vehicles, 350 volunteers, with 2 million dollars of aid consisting of food, medicines,ambulances, blankets, generators from London all the way through deserts and broke the Israeli siege to give the humanitarian aid to the people of Gaza who have been living for two years under an Israeli Siege, and victims of the Israeli Criminal bombings. This was a difficult 3 week journey, they slept in the vehicles . On his arrival George Galloway was greeted as a hero by all people of Gaza.


Some Truths about the Wall: "Remember the separation fence?"
Shaul Arieli May 06, 2009
By the end of 2007, following the Second Lebanon War and the Brodet Committee's report, the decision was made to transfer half a billion shekels from the fence budget to other areas in the defense budget. While this decision did halt an annexation plan that was put forth under the guise of security - as is the case in the Beit Aryeh-Ofarim area - the necessary decision was not made: to complete the fence along a route based on security considerations and which is far shorter and cheaper. The second reason for freezing the fence's construction is that the gaps are in disputed areas in negotiations between the Israelis and Palestinians - Ariel, Kedumim, Ma'aleh Adumim, eastern Gush Etzion and the southern Judean Desert. Olmert, Ehud Barak and Tzipi Livni have not continued construction for fear of the Palestinian response, and they do not want to harm Palestinian President Mahmoud Abbas' standing. They are also concerned about the American position, which rejects slicing up the West Bank into cantons. In addition, they are wary about the huge waste of money that would compound the already enormous amounts spent on the fence due to the greed for land and the "wasteful, flawed conduct and thought processes," as noted by the Brodet report.


President Barack Obama will aim to dispel mutual mistrust
Bloomberg News May 06, 2009
. A main purpose of the meetings will be for the leaders to reassure one another that each is a reliable partner. U.S. officials have become increasingly concerned about the Pakistani military's willingness and ability to fight an insurgency that threatens the nuclear-armed country's stability and hampers the American and NATO war effort in neighboring Afghanistan.=== American policy makers are mindful of suspicions in Afghanistan and Pakistan that the U.S. might eventually abandon the region as happened after U.S.-backed fighters ousted the Soviet army from Afghanistan in 1989. The Taliban rose to power in the ensuing political strife. The U.S. and Pakistan have "a complicated relationship between allies who have often misunderstood each other," Richard Holbrooke, the U.S. special representative for Afghanistan and Pakistan, told the House Foreign Affairs Committee yesterday.


Palestinian activists plan massive graffiti protest on West Bank fence
Haaretz Israel May 06, 2009
The letter by Farid Esack will be put on the eastern face of the wall this week by activists belonging to Sendamessage - a Dutch group that collects money over the Internet for painting messages to protest against the barrier Israel is building along the West Bank. According to Israel, the barrier is designed to keep Palestinian suicide bombers out, but Palestinians say it juts into their land.---In another segment, he writes: "The apartheid police never used kids as shields ... nor did the apartheid army ever use gunships and bombs against largely civilian targets." Esack is a Muslim writer and political activist appointed by Nelson Mandela to preside as gender equity commissioner. His text, which deplores Israel's "targeted killings of those who dare to resist"


Report: U.S. warned Sudan before attack on Gaza convoy
Haaretz Israel May 06, 2009
Sudanese officials initially assumed that it was the U.S. that was behind the bombings. However, when the U.S. denied involvement, the accusations were pointed at Israel, which has yet to confirm or deny the reports.


Tunnels have become a Lifeline for Gaza
IPS Erin Cunningham May 05, 2009
Editor CE: Some have asked us why we favor Hamos to lead the Philistines; it is because Hamas leads, and the tunnels are the best indication of this. Pick-up trucks speed westward on the Barth highway that flanks the Israeli border in Egypt's North Sinai region, stacked high with cartons of petrol. They are headed "for Gaza", the Bedouin residents of Barth village say – through the tunnels that burrow under the Egypt-Gaza border and are filling Gaza's aid gap in the aftermath of Israel's deadly assault on the territory.The hundreds of subterranean passages that have fuelled Gaza's economy since its borders were hermetically sealed by Israel and Egypt in 2007 were one of the primary targets of Israel's three-week Operation Cast Lead. Now largely rebuilt in the wake of a war that destroyed much of the strip's infrastructure and agricultural land, the tunnels that provide Gaza with food, fuel, medicine and other consumer goods may have become even more crucial as an economic lifeline, the World Food Programme (WFP) says. During the war, economic activity in the Gaza Strip came to a grinding halt. Over 20,000 buildings were destroyed, including many factories. Gaza's Private Sector Coordinating Council estimates the losses in the private sector as a result of the war to be 1.5 billion dollars. During the war, economic activity in the Gaza Strip came to a grinding halt. Over 20,000 buildings were destroyed, including many factories. Gaza's Private Sector Coordinating Council estimates the losses in the private sector as a result of the war to be 1.5 billion dollars. Since the Jan. 18 ceasefire, Israel has continued to operate its commercial crossings at minimal capacity. Only 35 percent of the 613 million dollars in funding requested by the United Nations (UN) Flash Appeal for Gaza has been received for reconstruction efforts. The UN Office for the Coordination of Humanitarian Affairs (OCHA) says that on average 127 aid trucks a day are entering Gaza, compared to 475 per day prior to the Hamas takeover. Analysts estimate that at least two-thirds of the goods sold across the Gaza Strip come from the tunnels, and that they employ some 12,000 Palestinians from all over the territory. Gaza's unemployment rate, according to the UN, stood at 45 percent before the war. It is the highest in the world. mugglers in both Egypt and Gaza balk at the assertion that the tunnels have been used solely to arm Hamas, and maintain they have been a decisive factor in keeping Gaza's battered economy alive, particularly in the post-war period when aid is the most crucial. It was ironically before Hamas took the Gaza Strip that the majority of the tunnels were used to transport weapons, they say. Now, a Palestinian smuggler named Ahmed says, it is more lucrative for him to move bags of potato chips. "Smuggling happens all over the world," Ahmed told IPS. "But the real crime is when you see educated people - doctors, engineers, teachers - forced to do this type of work because they have nothing else." Smugglers admit that trade has slowed as a result of Israel's firepower through the war, but that their work will continue as long as the siege is in place and Gaza's residents are deprived of what they need. "Tell the Israelis we are strong, that we have good hearts," says 20-year-old Salah, as he jumps barefoot into a tunnel to pull out a sack of grain. "We will not stop working, no matter how many wars."


Spain Continues Probe into Gaza Terrorist Assassination
Arutz Shevy, Israel National News Service May 05, 2009
Shehadeh was killed in an airstrike on his Gaza home, along with fellow terrorist Zaher Nasser. Thirteen other people, among them Shehadeh's wife and a daughter, were killed in the blast as well. The Spanish probe is pursuing allegations that Israel committed a war crime by going ahead with the targeted killing despite the fact that Shehadeh lived in a densely crowded area, increasing the risk of civilian casualties.---Several of the suspects currently hold senior positions in the IDF or the cabinet.


Food Blockade: Two Killed in Air Raid on Gaza Tunnels
Palestine Chronicle May 05, 2009
The bodies of two Palestinians have been recovered from a tunnel in Gaza bombed by Israeli aircraft, medical workers say.The air raids, which targeted several tunnels each running between Gaza and Egypt, took place on Saturday near the near the border town of Rafah, the Israeli military said.The bombing came shortly after three mortar rounds were launched into Israeli territory from the northern Gaza Strip, causing no casualties.The Palestinian Resistance Committees, an armed group in Gaza, said that it had fired the mortars.


In home churches - New trend
AZ Central May 03, 2009
RockChurch prayed the entire month of October before deciding to break into micro churches. The congregation still meets at Chandler-Gilbert Community College about once a month for baptisms and a combined worship. The church lost some members when it transitioned into micro churches in November. The congregation understood some churchgoers would be uncomfortable breaking from a traditional format. Before making the change, Forrest Erickson took a closer look at the New Testament and the early church. He discovered that for the first 300 years of the religion, Christians met predominantly in homes. That gave him peace.


CDC: 56,000 Dead from Flu...in 2006
CNSNews.com May 01, 2009
CNSNews.com) – So far this year, only one person--a baby visiting from Mexico--has died of swine flu in the United States, but more than 56,000 people died from the flu in the United States in 2006, the most recent year for which data is available, according to the CDC. In 2005, the flu killed 63,001 people here. But the deaths did not merit presidential statements or admonishments on hand-washing.


89 years old alleged Nazi, Demjanjuk is cleared for deportation
Assocated Press May 01, 2009
"We are currently considering legal options including an appeal to the Supreme Court," his son, John Demjanjuk Jr., said in an e-mail to The Associated Press. "Given the history of this case and no evidence of his personal involvement in even one assault, let alone a murder, this is inhuman even if a court says it is lawful," he said. An arrest warrant in Munich alleges he was a guard in Nazi-occupied Poland in 1943. Demjanjuk says he was a prisoner of war, not a camp guard.


FBI Hires Convicted Criminal to Spy on LA Area Mosques
LA Times May 01, 2009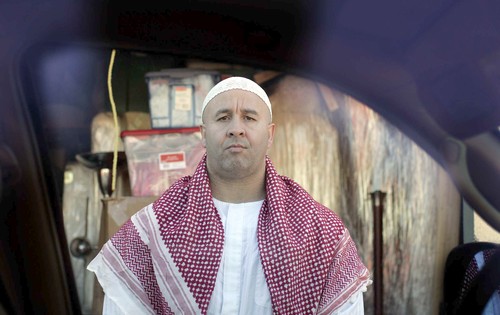 Craig Monteilh alleges he was instructed to pose as a Muslim convert, lure mosque members to gyms, work out with them and report to the FBI.---FBI agents, he said, later would obtain security camera footage from the gyms and ask him to identify the people on the tapes and to provide additional information about them. Monteilh, 46, is a twice convicted felon who says he was recruited by the FBI in 2006 to go undercover in the Islamic Center of Irvine.--Monteilh was reported to the FBI in June 2007 after members of the Islamic Center of Irvine alleged that he was promoting terrorist plots and trying to recruit others to join him.Monteilh denies being a terrorist and said anything he said or did at the mosque was in his capacity as an informant for the FBI. He said he was given permission by authorities to engage in terrorist rhetoric, planning and "pretty much anything short of an actual attack" as part of his assignment. http://www.latimes.com/news/local/la-me-surveillance28-2009apr28,0,4992367.story


Public Takes traditional Turn on Gun Control
Pew Research Center Apr 30, 2009
Public attitudes on a pair of contentious national issues -- gun control and abortion -- have moved in a more conservative direction over the past year. In both cases, the changes have been driven in part by relatively large shifts among men, while opinions among women have not changed very much. For the first time in a Pew Research survey, nearly as many people believe it is more important to protect the right of Americans to own guns (45%) than to control gun ownership (49%). As recently as a year ago, 58% said it was more important to control gun ownership while 37% said it was more important to protect the right to own guns.


Baptist minister leading evangelical movement for nuclear disarmament
The Dallas Morning News Apr 30, 2009
Stevenson, who outlined his Two Futures Project during a religious conference in Austin, said many under-40 evangelicals see nuclear disarmament as consistent with their values agenda. "It's not about conservatives becoming in favor of a liberal issues. It's about evangelicals raising an authentically Christian voice about a nonpartisan issue," he said.===Supporters of the effort include conservative Chuck Colson and three members of the President's Council for Faith-Based and Neighborhood Partnerships – Dr. Joel Hunter, the Rev. Noel Castellanos, and Jim Wallis.


Israel an 'Obstacle to Obama'?
Arutz Sheva, Israel Natinal News Service Apr 30, 2009
A report in World Tribune quoted an Israeli source familiar with the intelligence assessment who said that "Obama wants to make friends with our worst enemies and [those who we until now the worst enemies of the United States. Under this policy," the source added, "we are more than irrelevant. We have become an obstacle."According to the report, which has not been corroborated by news sources other than World Tribune, Israeli sources said the U.S. Administration would reject Israel's intelligence opinions on Iran and Syria while advancing the Obama plan to reconcile with the two states, although both were listed as state sponsors of terrorism by the U.S. State Department."Obama will want to show Iran, Syria and radical Muslims that the United States could pressure Israel on a strategic level," the source said. "The pressure has already begun and will intensify throughout the next year or two."At the same time, the intelligence officials estimated that Obama would restrict U.S. arms exports to Israel in an effort to deny it systems that it could use in a raid on Iran or Syria. The intelligence sources said this policy was begun during the last year of the Bush administration and predicted that it would intensify under Obama.


President Ahmadinejad: in full support of his words
Gilad Atzmon, Aljazeera Apr 29, 2009
Israel is indeed a racist state! ---Israel defines itself as the 'Jewish state'. Though Jews do not form a racial continuum, their national state's legislation is racially orientated. The Israeli legal system is discriminatory towards those who fail to be Jews. As if this is not enough, the Israeli army proves to be murderous towards the indigenous inhabitants of the land.---It was indeed Jewish suffering that bought about the formation of the Jewish state. It is true also that the Jewish state was founded at the expense of the Palestinian people who are in fact the last suffering victims of the Nazi era.


Taking the Prince of Peace Seriously
Thomas E. Woods, Jr. Apr 29, 2009
Christianity and War, and Other Essays Against the Warfare Stateby Laurence M. Vance (Vance Publications, 2008); 432 pages. What changed this single paragraph from a 1940 statement (Southern Baptist Convention): ---Because war is contrary to the mind and spirit of Christ, we believe that no war should be identified with the will of Christ. Our churches should not be made agents of war propaganda or recruiting stations. War thrives on and is perpetuated by hysteria, falsehood, and hate and the church has a solemn responsibility to make sure there is no blackout of love in time of war. When men and nations are going mad with hate it is the duty of Christ's ministers and His churches to declare by spirit, word, and conduct the love of God in all men. In time of war it is our Christian responsibility to prepare for peace. We would, therefore, urge our churches to think and work toward a Christian social order in which a just and lasting peace can be realized.


The Late Great State Of Israel (A book not worth reading)
WorldNetDaily Apr 29, 2009
EditorCE: Less anyone misunderstand us, this book is a fraud, do not buy it, but do know about it. Israelists World Net Daily and Hal Lindsay are shills for Israel---Yes Israel is failing, but for none of the reasons are found in this book...it is failing because it has few resources, and too many people who waste water as though they lived on the Lake Michigan; Israel is failing because they are incredibly corrupt society led by a militarist, brutal government that has been at war for 60 years without let-up. The world knows Israel survives only by the US taxpayer, and are increasingly unwilling to visit the the most bloodthirsty regime. ---Ditch this trash book, and instead we suggest you read the book that told us of Israel's coming death 18 years ago, HOLOCAUST II? SAVING ISRAEL FROM SUICIDE (HB), by Andrew J. Hurley, hardback classic on our website, and for half the price you can get a 345 page soft cover edition renamed One Nation Under Israel...the same book with a different cover. (http://eshop.whtt.org/eshop.php?id=28)---World Net Daily book Ad: "How Enemies Within and Without Threaten the Jewish Nation's Survivial" ..."The Obama administration is leading Israel down a road that, if not altered, may result in the Jewish state's demise, according to a new book released this week that Hal Lindsey has called a "must-read for anyone seeking to understand the Mideast."


Worry lines: Even the rich now fear running out of money
Chuck Jaffe, MarketWatch Apr 29, 2009
Editor CE: The words of Jesus Christ could not be more clear on how those who follow Him should view money. One friend who follows Christ, had these closing words to me after a short phone discussion of the troubled financial times we share: Oh well, money belongs to God, like everything else we do. ---My slightly delayed response, after thinking this over was: No money is not of God. It is the creation of dark powers in human forms. What is of God is all our real wealth and resources, including our very life force or soul, and our energy...these are of God, and money is a way men corrupt it.---Market Watch writes: Meanwhile, the 10th annual Phoenix Wealth Survey released Monday showed that America's millionaires have been stripped of their confidence and sense of security.---"People who are focused on wealth -- who spend much of their time worrying about making it and how they can better their future financially -- have a greater chance of attaining wealth, but they also feel the pain of loss more acutely," said John Nofsinger, a Washington State University professor who studies behavioral finance and investor psychology. "They're better off after this loss of wealth than most people, but emotionally they are hurting more than people with less wealth but different priorities."